We have been operating holiday apartments since 2009 and welcome 3,000 guests every year at our ten apartments here in Berlin.
Great Home in Berlin is a project of qcons GmbH in Berlin, a small idea incubator. Great Home is a member of ApartmentAllianz Berlin e.V., an initiative of companies renting holiday homes to guests in Berlin. As a member of ApartmentAllianz we fulfill the codex of well run holiday homes.
Sustainability is important to us both for Great Home and all our other projects. All our power is green and the soap, the washing up liquid, the herbs we provide, and the cleaning materials are all organic. We try our best to source sustainable goods that are as locally produced as possible.
For instance:
We buy salt and pepper from Direkt vom Feld in Flöha
Coffee, sugar, tea, and slatted frames are from Memo (environmentally friendly office supplier).
Our mattrasses come from bett1.de.
Our power comes from sustainable powerprovider Naturstrom.
For our small guests we provide pencils and coloring books from Ampelmann in Berlin.
The soap, shower gel and shampoo in the apartments are from iplusm Naturkosmetik in Berlin.
The slippers are from PAM Berlin.
We buy the pillows and duvets from OBB Oberbadische Bettfedernfabrik GmbH.
We buy the pots and pans from Pfannen Harecker.
Small kitchenware such as the kettle, coffee machine, and toaster are purchased from Efbe Elektrogeräte GmbH.
Much of the furniture comes from Ikea. Even here, we pay attention to where they were produced.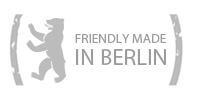 We want you to feel at home in Berlin.
It is important to us that:
We offer attractive, pleasant, and functional apartments.
We reach reliable agreements with you, our guests.
We take your feedback seriously, so that you can feel even more at home during your next stay.
This is only possible with many helping hands.
We would like to thank:
Ülker and team, who keep our apartments spotlessly clean and well maintained.
The 'welcome team' of Shpresa, Lisa, Stella, Laura and Caro for always welcoming our guests at the holiday apartments in a friendly and informative manner.
Patryk and David in the office, who calmly and level-headedly keeps everything running smoothly.
Gulnaz for countless duties at night and on weekends.
David for our attractive apartment photos.
Angela for this great Internet presence.
Aleksandra for the cheerful cartoons on our site.
Gudrun for lovingly sewing all our curtains and net curtains.
Frank for furnishing the apartments.
Corinna for designing the apartment and selecting the decorations.
Patryk for regularly maintaining the apartments.
Daniel and translatione.de for translating the website into Oxford English.